Boost Your Productivity With These Life-Changing Work Apps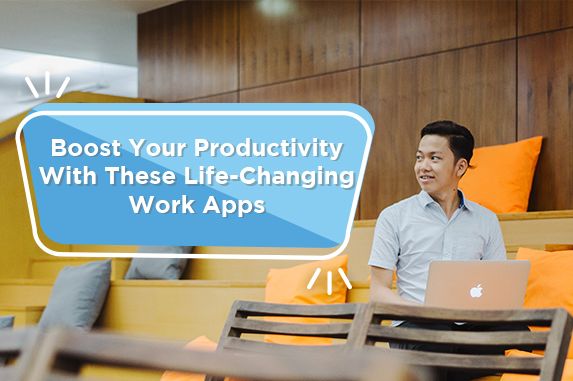 Practice makes perfect, and productivity takes a lot of practice. It's a big enough challenge to roll out of bed in the morning (or afternoon), let alone work on tasks that need doing.
We know it's tough. Thankfully, new applications that can make our lives even just a little bit easier are being invented every day!
Boost productivity with some of the most useful apps to have for different kinds of work, like
Task Automation
By automating tasks in the background, you get to focus on doing what you do best. Apps like Zapier and IFTTT (or If This Then That) have integrated with other apps to do a whole lot of work for you. Set up triggers and actions for minuscule, repetitive tasks like saving an email attachment to Dropbox or closing window blinds at a certain time of day.
Zapier works on a freemium basis (you can use it for free, or upgrade to a paid plan to access more advanced features), while IFTTT is free to use.
Workflow Organization and Project Management
Tasks piling up is part of any company's growing pains – using traditional to-do lists are probably not going to cut it. Asana and Trello are the solutions to problems such as this.
Trello works best for projects that go through most of the same processes, such as web design and development or marketing campaigns for social media or blogs. It works mostly as a kanban board. Asana allows you to dig deep into each task with subtasks, and even view the timeline for each task.
You can start using either app for free, but access to more advanced features is behind a paywall. Try both out and see which one works best for you.
Social Media Planners
If you're like us, you've probably lost track of how many social media channels there are. It's vital for most businesses to keep their Facebook, LinkedIn, Twitter, and Instagram accounts active.
It pays to plan ahead, so as soon as you've prepared your content for the next few weeks, you can set up a calendar to automatically post them for you, like Buffer. And if you're still short on content, you can give Missinglettr a try. Both are great apps for social media management, and then some. Schedule your posts ahead of time and see how well they do with your audience with in-app analytics functions.
We'd recommend Buffer for those that prefer to pay attention to detail, and Missinglettr for those interested in creating the best social media drip campaign.
Time and Habit Tracking
Getting in the way of productivity is procrastination, and it is a tough opponent. Build better work habits by using a time and habit tracker.
Try a Pomodoro app like Focus Booster or Be Focused – both come with a free version, but upgrading to a paid plan gives you an in-depth look at your progress after using the app. You can learn more about the Pomodoro method and Pomodoro timers on our previous blog post here. Simply put, you set aside a certain number of minutes for work and for breaks. Make sure to follow through to ensure the most productivity.
Team Communication and Collaboration
With technology paving the way for digital nomads and independent professionals, apps for direct and group messaging and voice and video calls have become necessary tools for people working remotely.
Apps such as Slack, Flock, Microsoft Teams, and Google Hangouts enable teams to work more efficiently. Aside from messaging and call features, you can use these to share files, schedule reminders, list to-dos, and create polls. Or if you lean more towards esports and gaming, you might have more use for Discord.
Insider tip: you can just @ them if they're not responding to your emails.
Easy Account Access
With a great many accounts comes a great many passwords. It's a challenge to remember them while also keeping them secret.
If you're not the paranoid type, you can give tools such as LastPass or 1Password a try. Basically, password apps are your one-stop shop to remember just one master password, while keeping the other passwords for your account safe and secure. They're protected with powerful encryption tech, so you can rest assured that your privacy stays private.
Brainstorming Tools
For the visual thinkers, use virtual mind mapping and brainstorming tools like MindMeister and MindNode. They're awesome tools that let you organize and reorganize your ideas, but with an undo function!
Your team's brainstorming sessions no longer have to be done in one meeting room. As long as you have an Internet connection, you can stay in the comfort of your own home, hang out at a cozy coffee shop, or get some sun at the beach and still be able to collaborate with others and contribute your great ideas.
Proofreading and Editing Assistants
It takes a keen eye to pinpoint the slightest errors, particularly in large bodies of text. It can be an exhausting task, especially if you've been writing for hours on end. That, and it's nearly impossible for everyone to recall all the writing guidelines.
This sort of work can now be done with the help of tech. Tools such as Grammarly and the Hemingway Editor can assist you in editing your work – at least before you get a professional editor to have a look at it.
With every new way to work, there's a skill that needs learning. That, or you could use the power of technology. After all, particular tasks need specific tools – and with the right tools, you can be more efficient, and even more productive.
We're probably a long way from getting superpowers. In the meantime, we'll have to make do for now and use technology to our advantage.